屏定天下!18个月打磨的超级旗舰Ulefone T2 争霸机皇 全球首发
超强Helio P70 AI智能处理器
6.7英寸超清夏普极致大屏
6GB+128GB超大内存
时尚3D玻璃后盖
1600W超高清双摄
"人脸+指纹"双重极速解锁
全新安卓9.0系统
全球首发
Ultra powerful Helio P70 AI processor
Ultra-large 6.7-inch SHARP notch screen
6GB RAM + 128GB internal storage
Fashionable 3D glass back cover
16MP high definition dual rear camera
Face unlock & fingerprint ID
Latest Android 9.0 system
Global pre-sales is coming
激情夏日,Ulefone终于迎来了新一代高端旗舰机型T2,为你的期待而来,亦将全面超越你的期待!3D玻璃后盖配备冰珀蓝和波尔多红两个配色,尽显高贵;6.7英寸夏普刘海屏,畅享无边视野,遇见美好未来~
In this crazy hot summer, Ulefone finally adds a new addition to its high-end flagship series. Ulefone T2 comes for your expectation, and it will definitely be beyond your expectation. The fashionable 3D glass back cover with two color variants of Bordeaux red and glacier blue, show your perfect taste; 6.7-inch SHARP notch screen brings your limitless view, meet a better future.
6.7英寸极致超大屏幕
广阔视野触手可及
作为一个高端旗舰机型,在屏幕上自然必须出类拔萃。Ulefone T2配备夏普6.7英寸超清刘海屏,1080*2280的超高分辨率,目之所及,绝对是一场无与伦比的视觉盛宴。再加上98%的NTSC的超广色域,不仅比普通屏幕高出36%的水准,另外具备的高色域灯技术,使得Ulefone T2的6.7英寸大屏显示亮度更高,色彩更鲜艳,图像更清晰,色彩还原度也更高。
Ultra-large 6.7-inch SHARP Notch Screen
Broad Horizon is Within Reach
As a high-end flagship-level phone, the phone screen certainly should be peerless. Ulefone T2 packs 6.7-inch FHD+ SHARP notch screen with 1080*2280 resolution ratio, as far as you can see, it will definitely be an unparalleled visual feast. Moreover, it comes with up to 98% NTSC Ultra-wide color gamut, which is 36% higher than the ordinary screen, with the addition of high gamut lamp technology, showing you more vivid, stunning color and crisp images.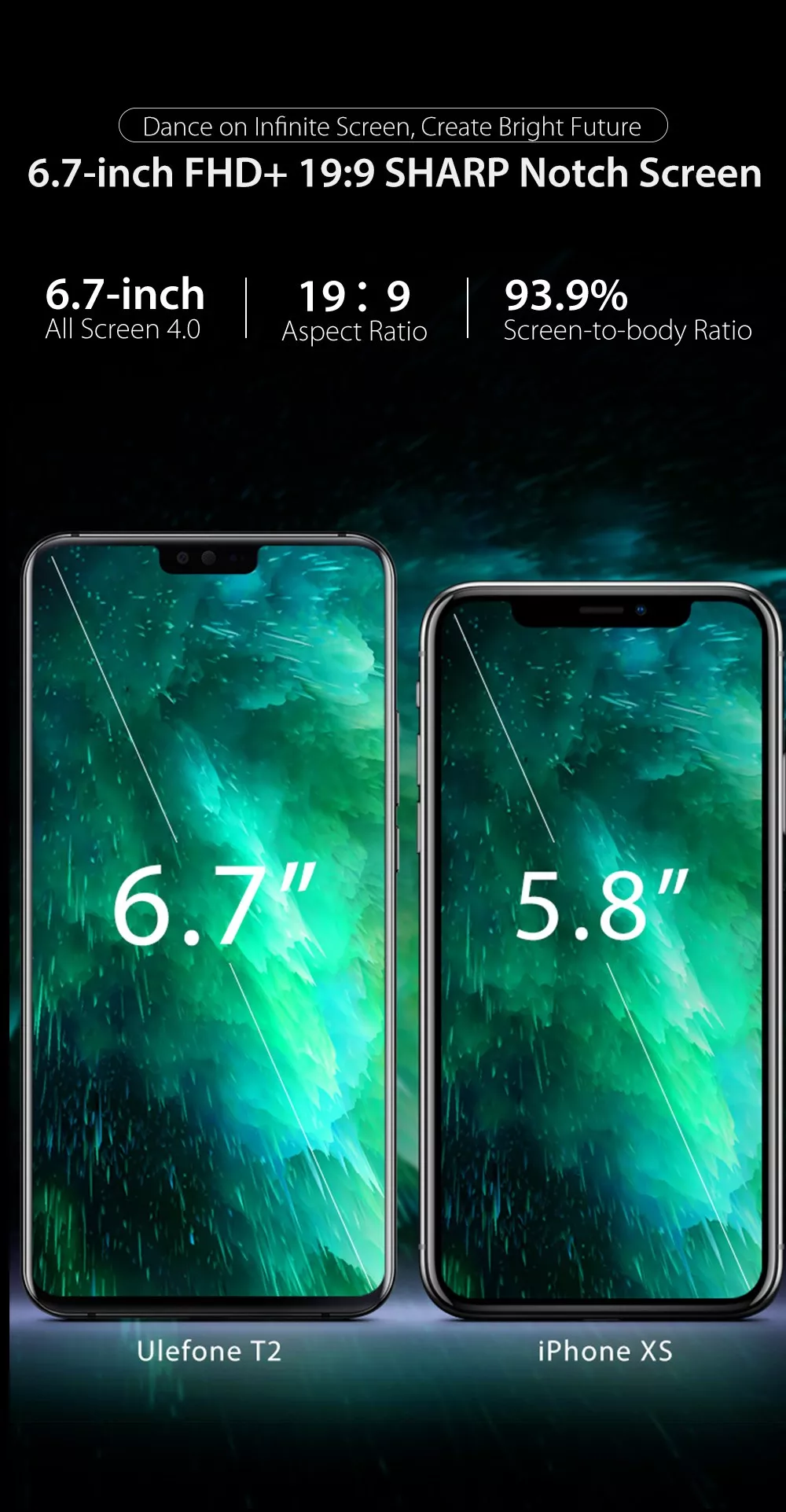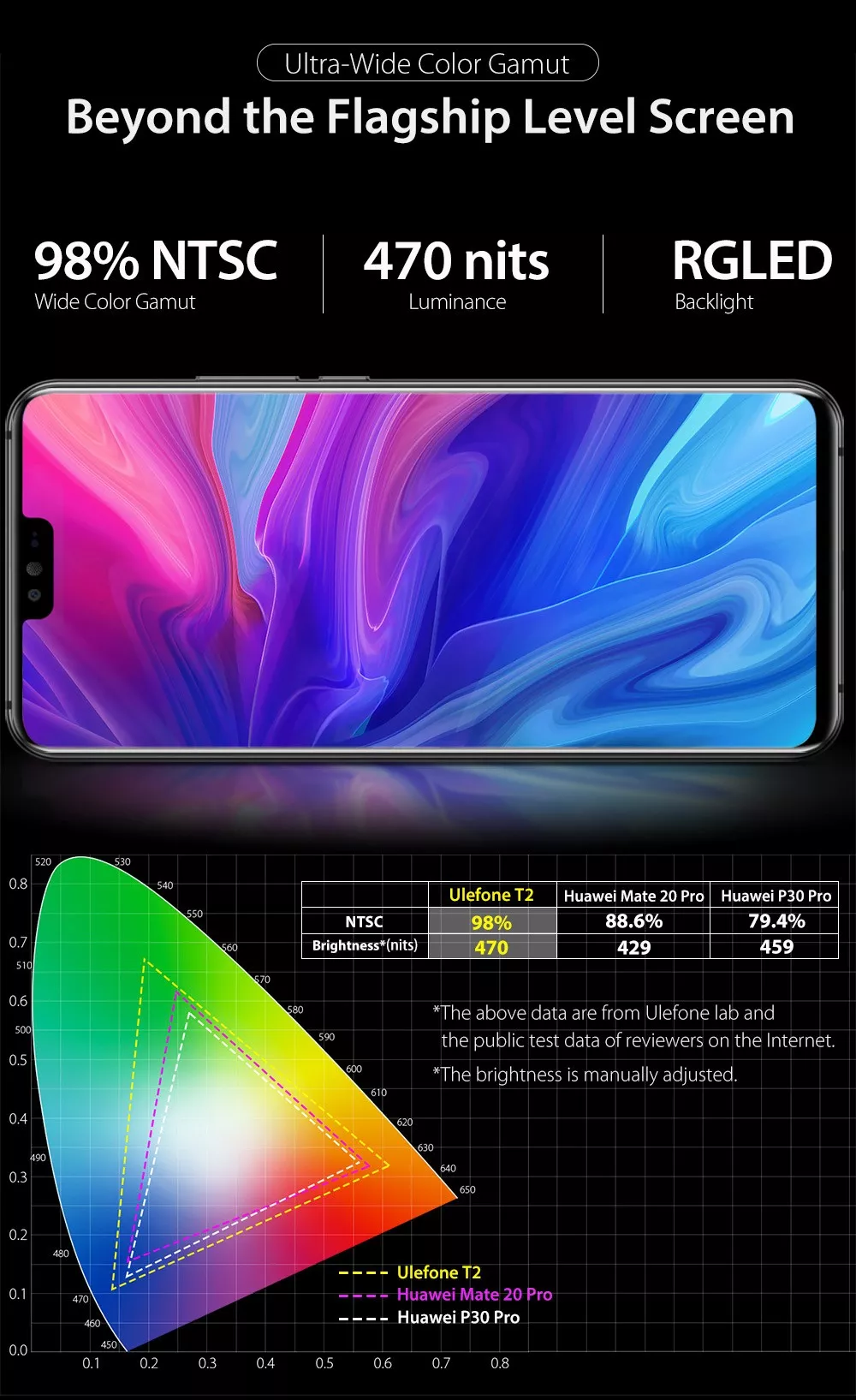 3D玻璃后盖
时尚与科技的完美结合
优雅的线条与炫目的色彩交相辉映,精湛的工艺与精致的玻璃后盖、金属中框进行完美融合,营造给用户一种极致的视觉美感;另外流线型的机身设计,让机身更加轻薄,握感也更加舒适。无论是时尚感,还是科技感?Ulefone T2势必让你眼前一亮。
3D Glass Back Cover
The Perfect Combination of Fashion and Technology
Elegant lines and dazzling colors complement each other, delicate craftsmanship perfectly combine with 3D glass back cover and metal frame, creating an extreme visual aesthetics for users. And the streamlined design makes the phone body thinner, brings more comfortable hand grip. Ulefone T2 will surprise you in fashion and technology.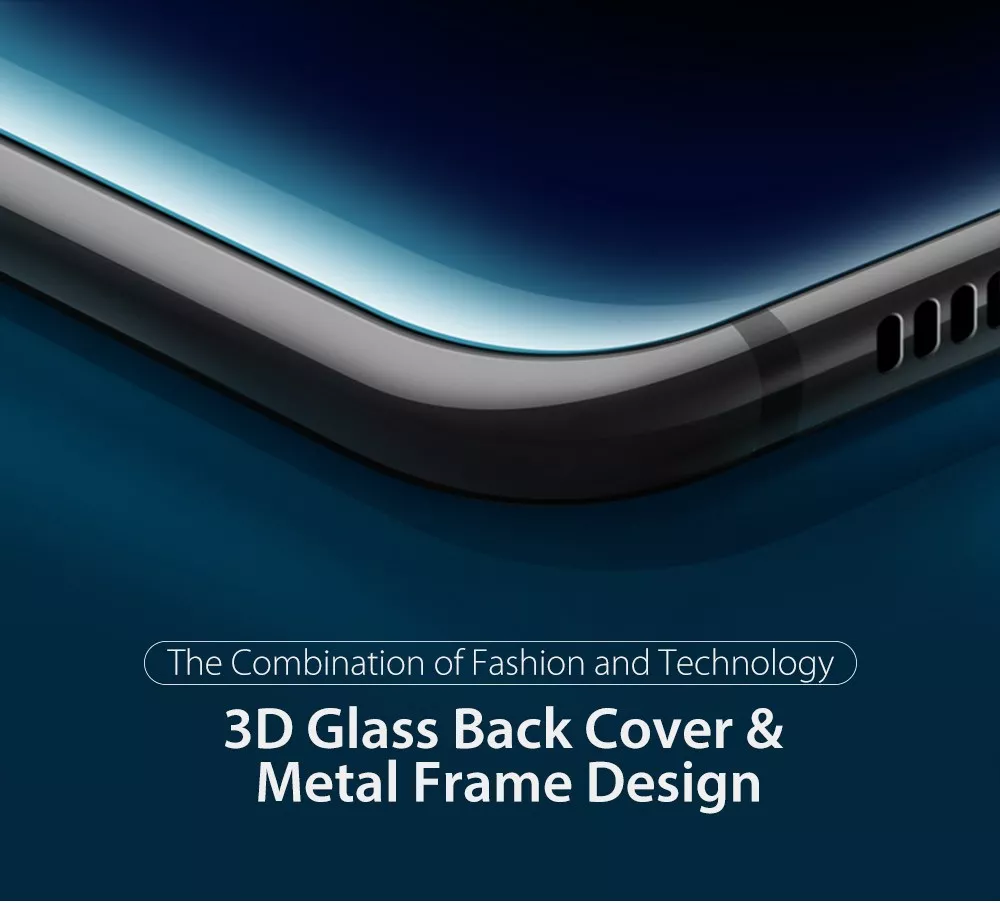 12nm芯片制成工艺
强大高效的AI人工智能处理器
Ulefone T2搭载联发科Helio P70高端AI处理芯片,最新12纳米FinFET制程工艺,强大的Arm Cortex-A73/A53核心构架,拥有超高运行速度,功耗比上一代可降低20%,可以为您带来快速、流畅、有趣的游戏体验和拍照体验。6GB+128GB的超强运行内存组合,常用app随用随开,游戏大小通吃,日常体验更不在话下;支持256GB内存拓展,想存什么都可以!
12nm FinFET Production Process
Powerful & Efficient AI Processor
Ulefone T2 is equipped with MediaTek Helio P70 AI processor, uses the latest TSMC 12nm FinFET production process, incorporates a powerful Arm Cortex-A73/A53 octa-core CPU complex with an impressive Arm Mali-G72 class GPU. It provides super-fast running speed, and the power consumption is reduced by 20% than the prior version, offering you fast, smooth game and photography experience. The combination of 6GB RAM and 128GB internal storage enables you to launch the common Apps in seconds, play games at will. And the 256GB expandable storage, you can keep all your like.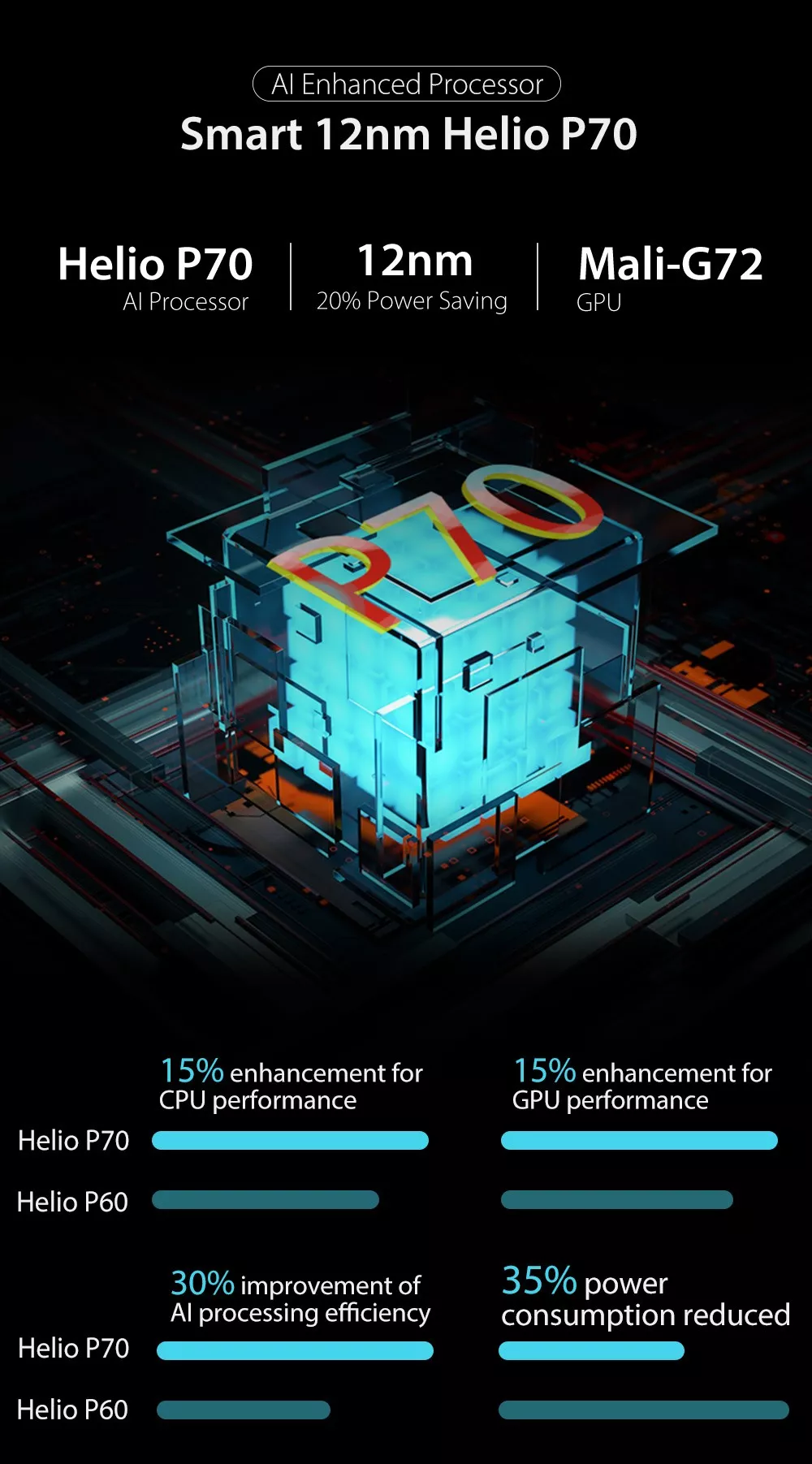 16MP+8MP后置双摄
勾勒精彩生活
Ulefone T2的16MP+8MP高清双摄拍照组合,会帮你把那些美好的记忆统统装进手机,不留遗憾。Helio P70全新的高分辨率深度AI运算引擎,可让深度绘图能力提升三倍,在拍照和摄影时捕捉更丰富的细节,让照片更富质感。另外8MP的自拍摄像头也能让你随时记录和朋友在一起的每一个快乐瞬间。
16MP+8MP Dual Rear Camera
Outline Your Wonderful Life
16MP main camera and 8MP sub-camera record all the beautiful memory in your phone, no need to worry about forgetting. The new high-resolution depth engine of Helio P70 gives a 3X boost in depth-mapping performance, captures richer details and makes the images more texture. And the front-facing 8MP camera helps you to record every happy moment with your friends.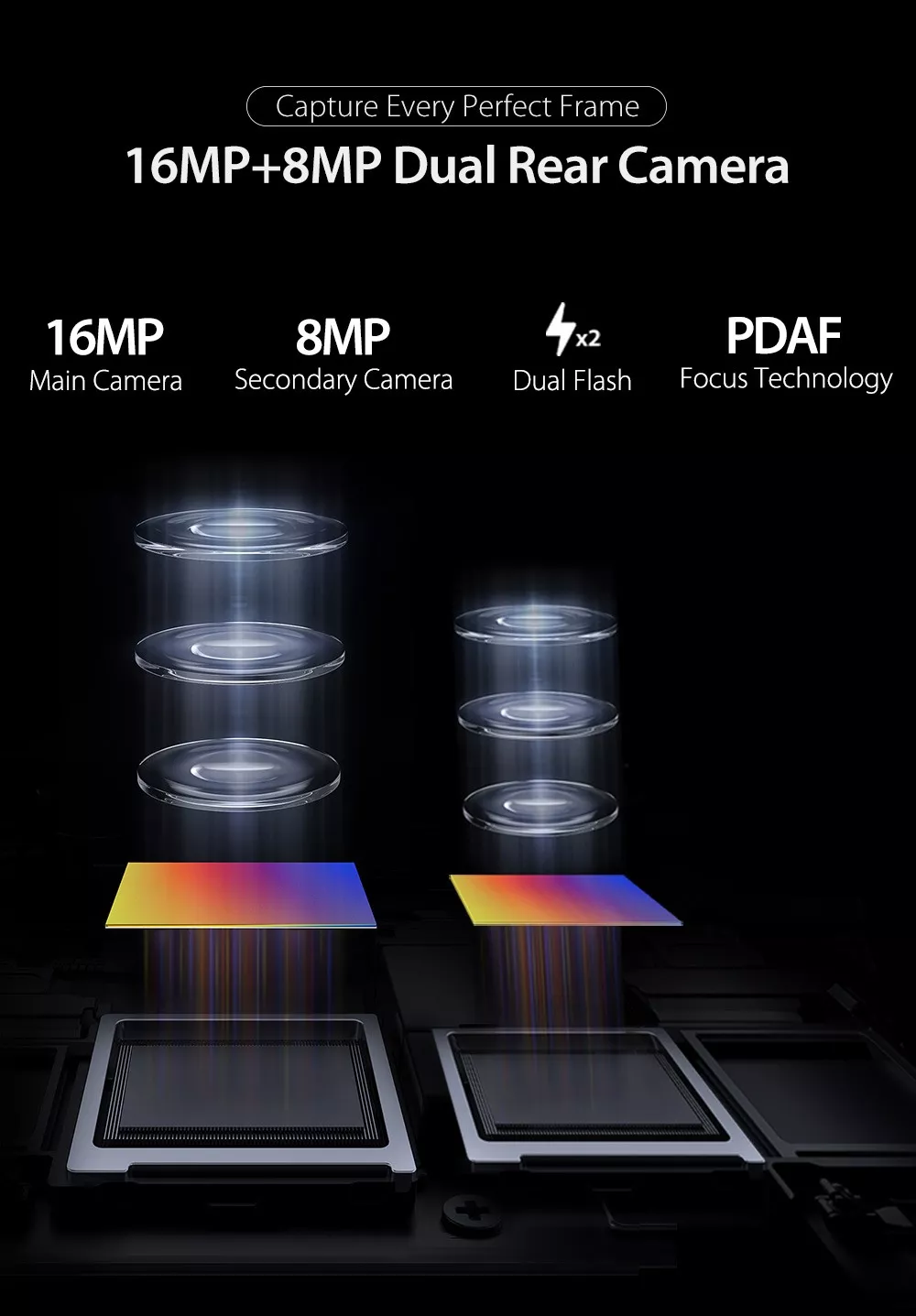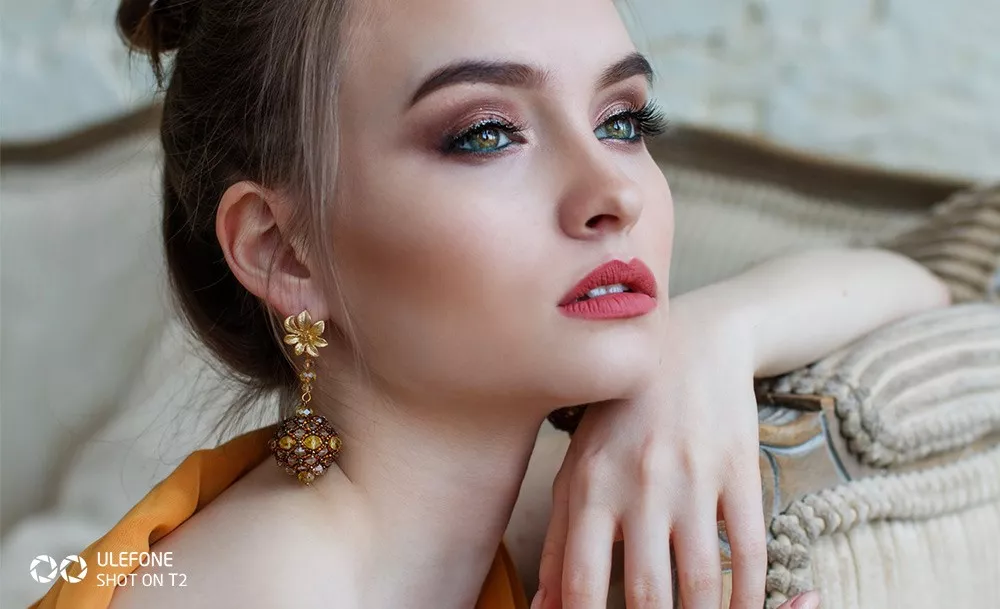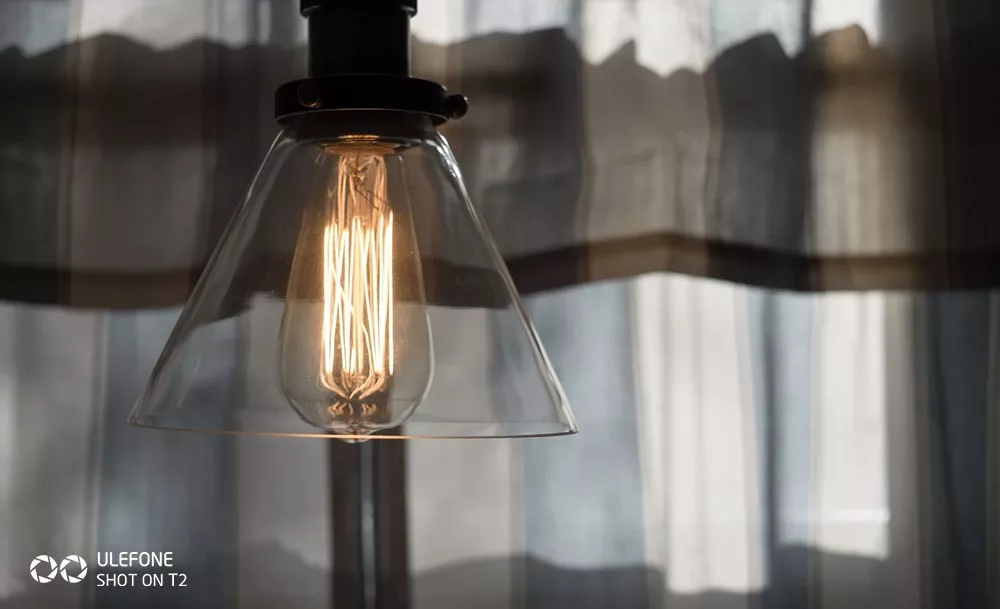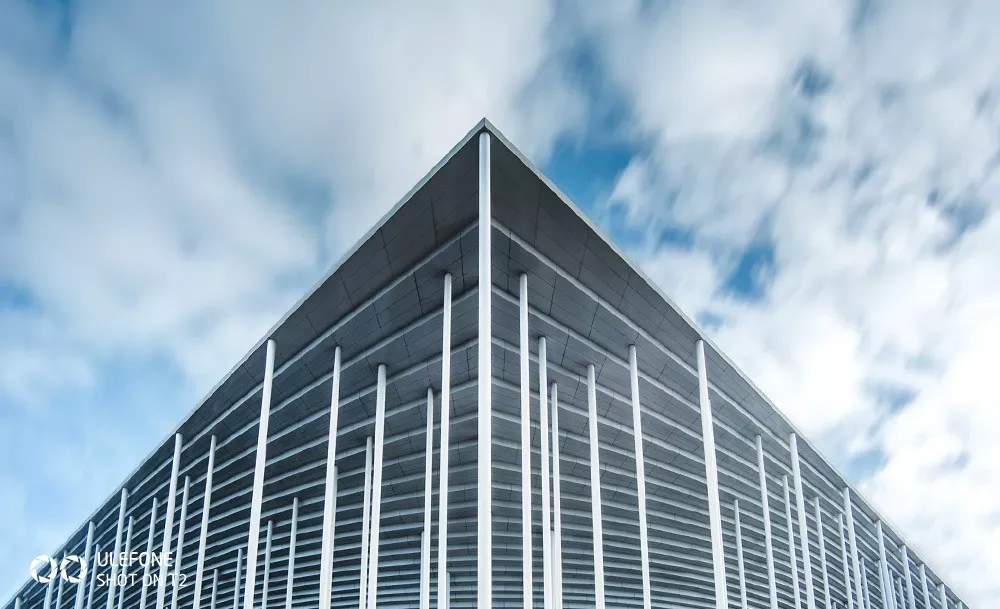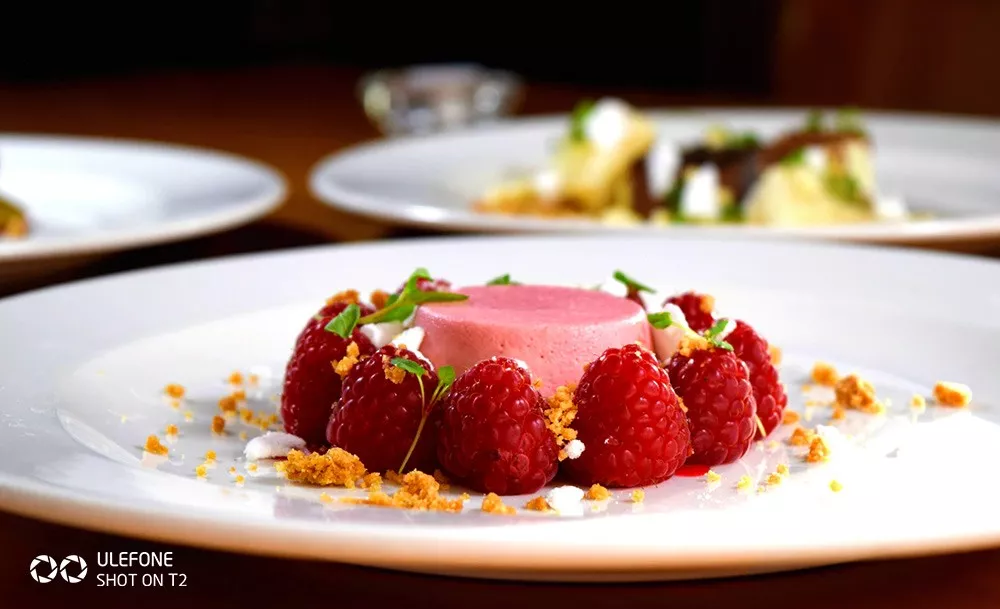 4200mAh大电池
长续航&快速充电
4200毫安大电池,让你随时随地追剧,尽兴开黑,9V2A快充让充电速度大幅加快,只留爽快,不留等待。
4200mAh Large Battery
Long Standby Time & Fast Charging
The impressive 4200mAh big battery with AI power management fuels your daily work and entertainment needs. You can freely watch videos or play games. And the 9V2A fast charging greatly shortens the charging, no more meaningless waiting.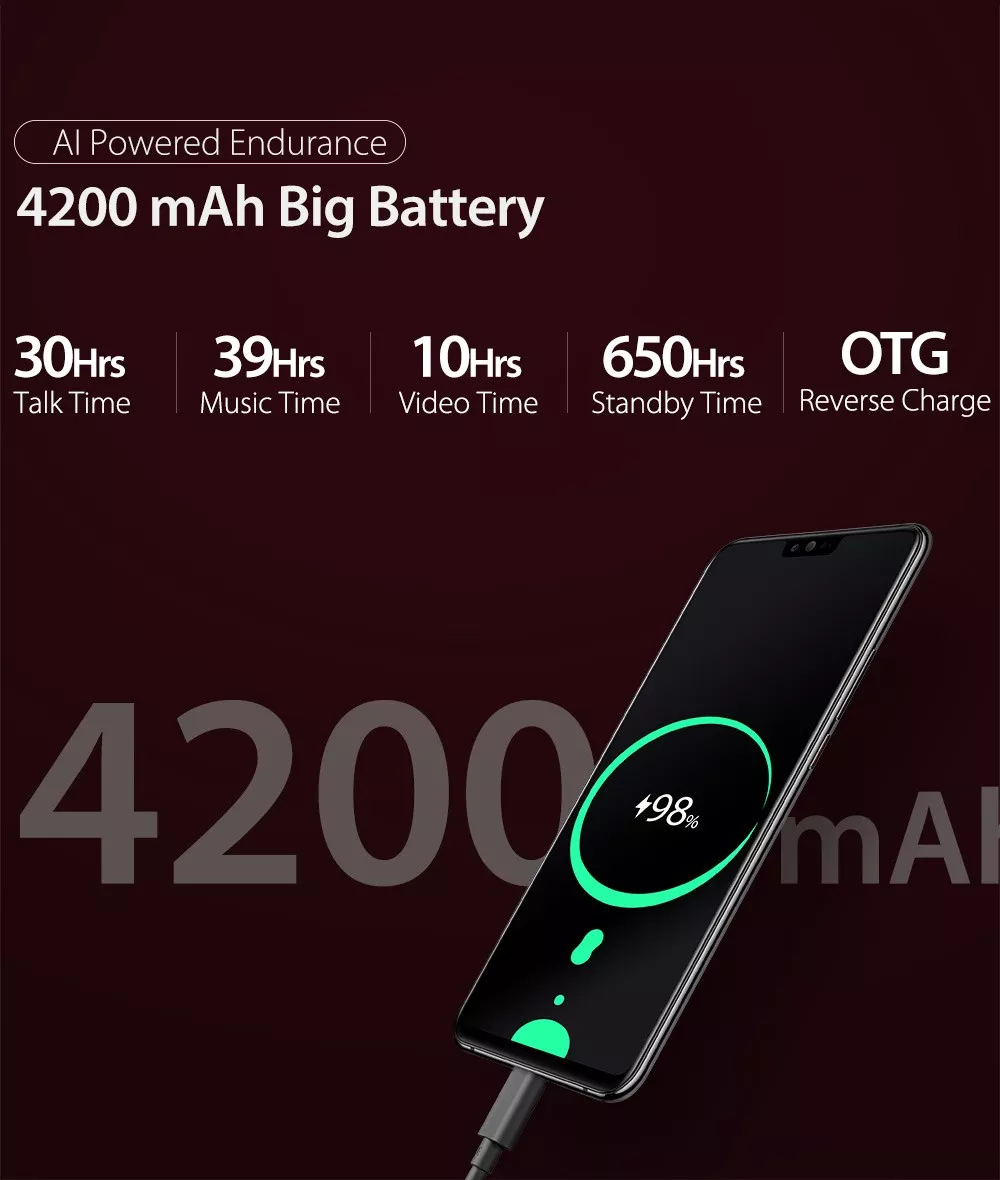 NFC+Google Pay
走进全新支付时代
购物、搭车、刷门禁,都可以用手机解决,刷卡支付快人一步;方便又智能,跟各式各样的卡说拜拜。
NFC+Google Pay
Entering New Paying Era
Supporting a power NFC chip, Ulefone T2 is the key to smart life with daily convenience. It's a new way to pay, with only one simple touch to complete all payments. No matter shopping, taking bus or accessing, all you need is just taking one phone, smart and convenient. Say goodbye to multifarious cards and no need to worry about forgetting to take money with you any more.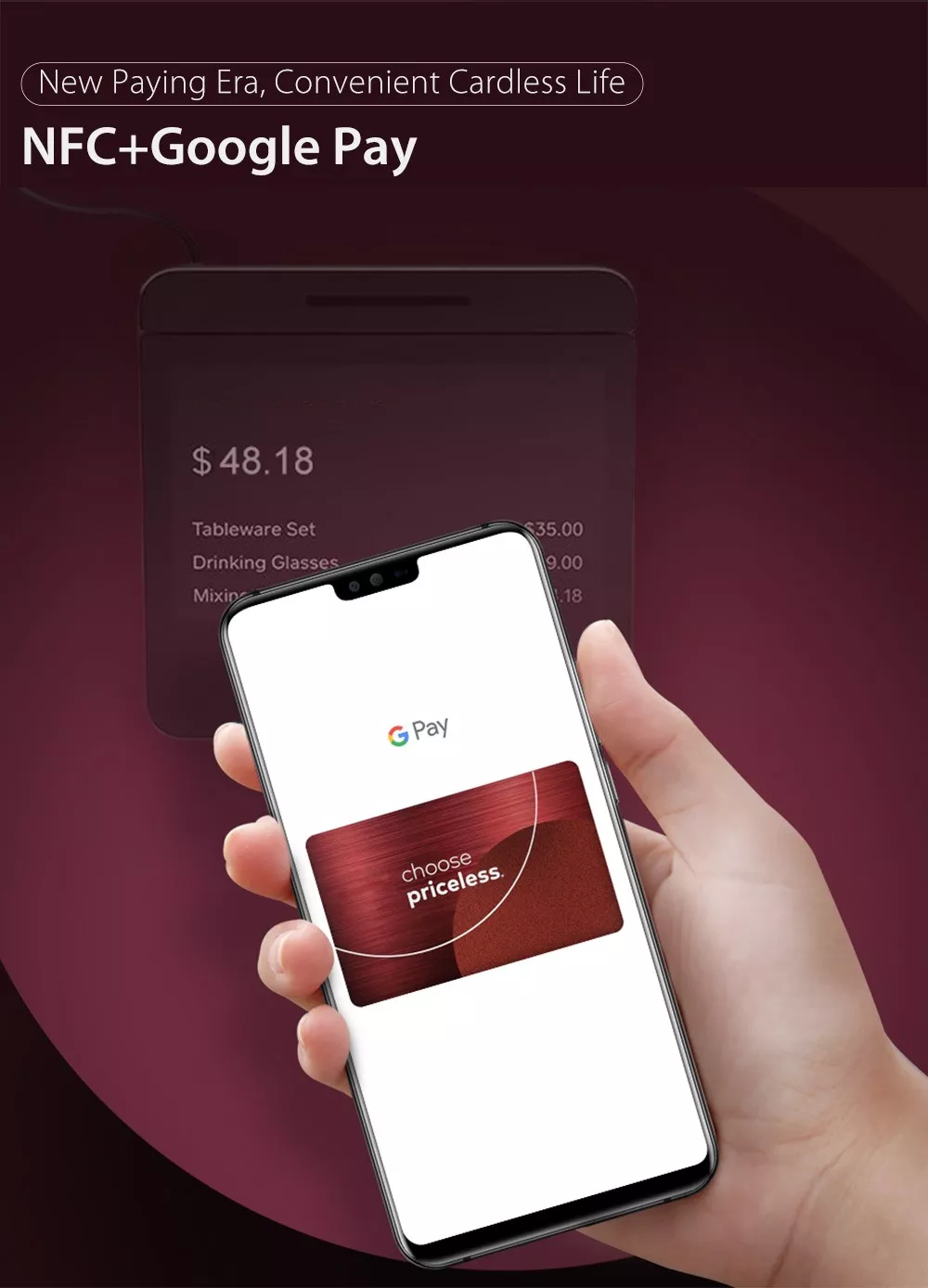 双重解锁方式
快速+安全
革新性的面部解锁系统让Ulefone T2做到0.2秒内快速解锁,抬起手腕,屏幕自动亮起,进入桌面,一气呵成。除此之外,Ulefone T2还在背部配备了高灵敏的指纹感应器,手指放上去也可快速解锁,安全又简洁。
Dual Unlocking Methods
Fast & Safe
Revolutionary face detection technology helps you to access your phone in 0.2 seconds. And sensitive back fingerprint sensor enables you to swiftly unlock your phone. The double unlocking methods will provide your privacy, property much safety.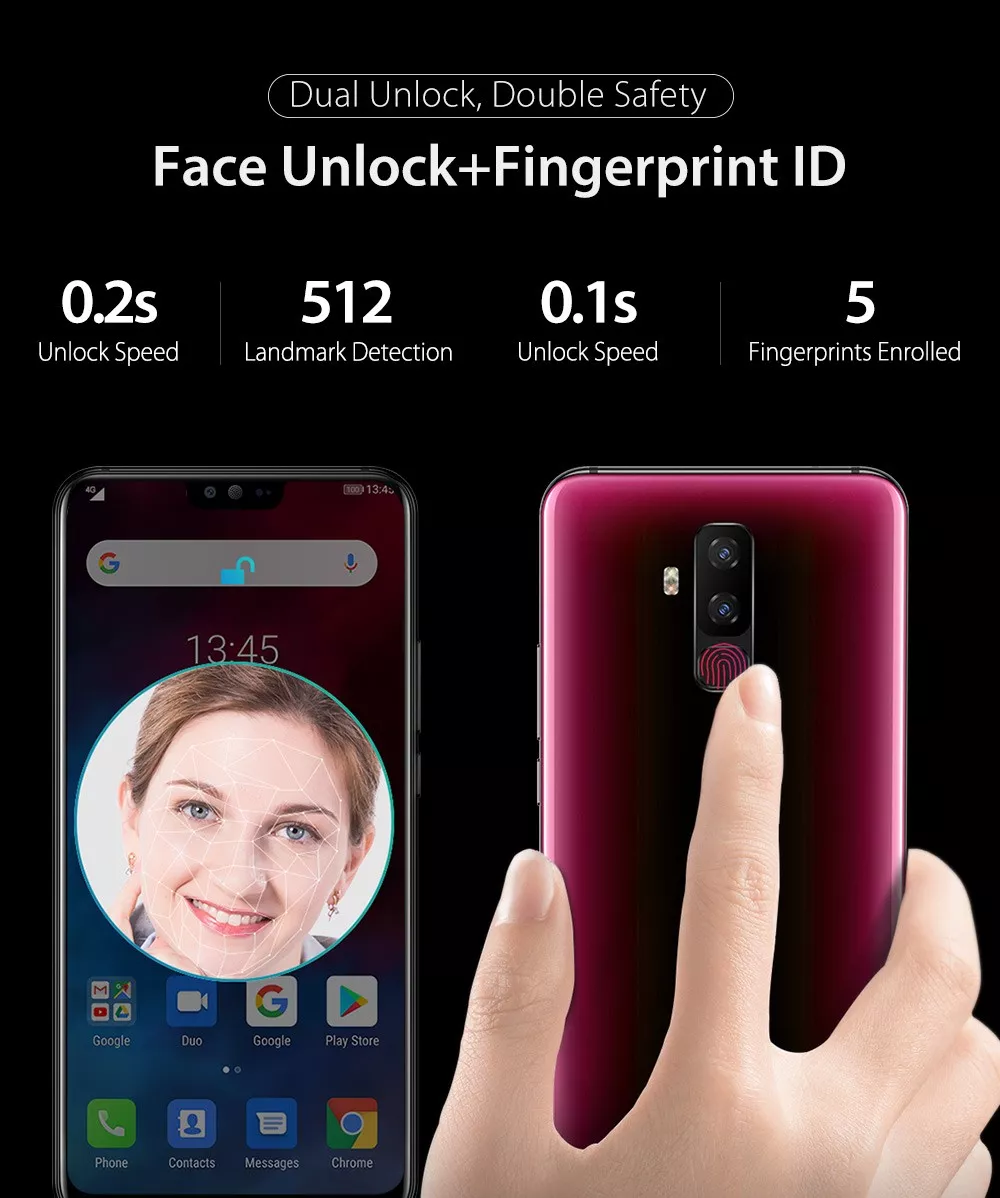 智能功放
畅享高保真音乐
Ulefone T2的智能功放系统为你带来高品质的音乐享受,让你随心所欲地感受音乐的魅力。
Smart Audio
Enjoy High Fidelity Music
The smart audio system of T2 will bring you high-quality music feast, you can feel the charm of music at will.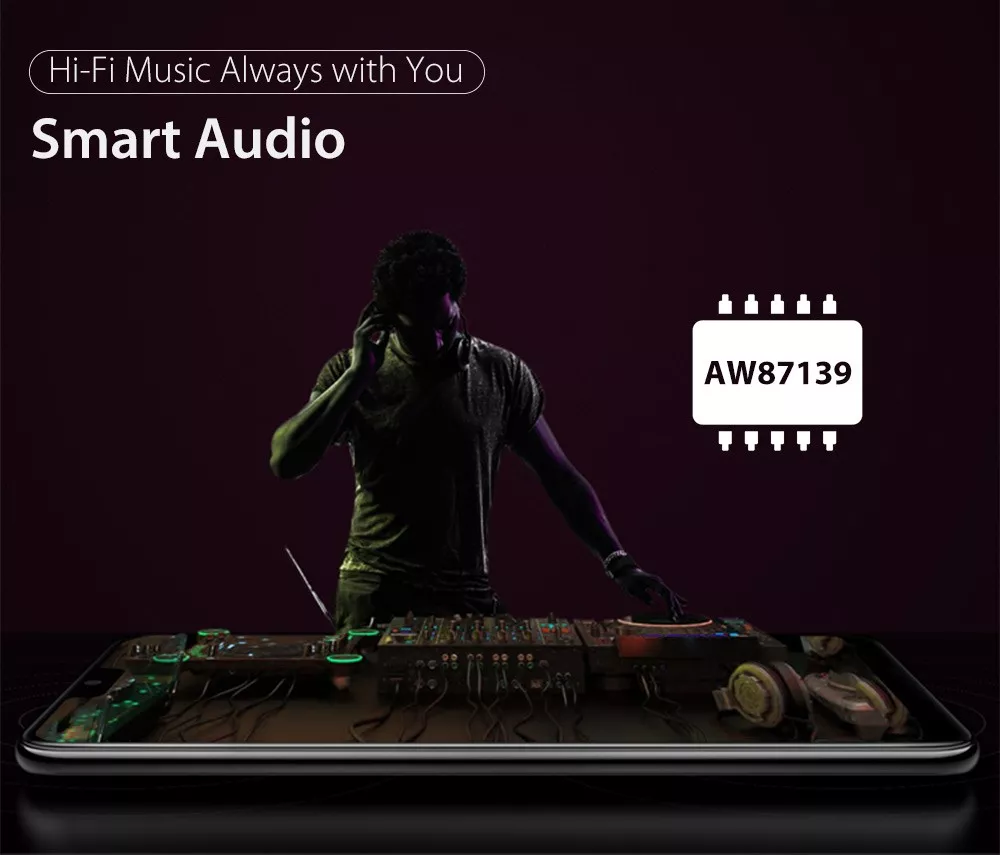 三重导航系统
再也不怕迷失方向
Ulefone T2支持GPS+GLONASS+北斗三合一导航系统,可以为您提供精准,明确,快速的定位。纵跨全球各地,无论在闹市或者山区都不会迷路。超强的信号感应,即使在山洞或隧道也能正常使用,出行更安全便捷。
Triple Navigation System
Never Afraid of Being Lost
Ulefone T2 packs GPS, GLONASS and Beidou navigation system, providing you accurate, fast navigation, no matter in downtown or mountain area, you will not get lost. The powerful signal sensor enables you to use the navigation in the cave or tunnel, making your trip more convenient.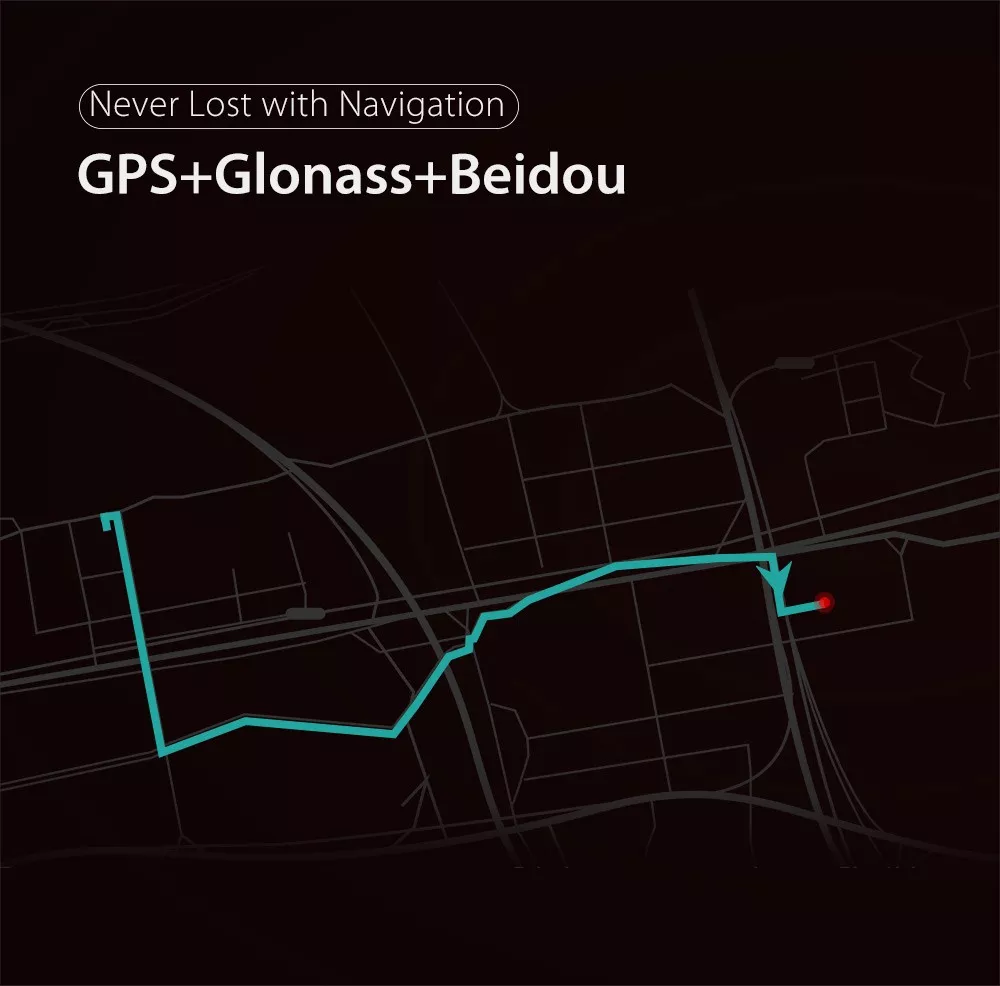 全网通手机
支持更多4G频段
T2支持6模31个频段,覆盖全球90%的区域,使用地域广阔。让你在出国旅游、出差的同时也能安心、顺畅地与家人、同事、朋友沟通,乐享自由。
Full Netcom
Supporting More 4G Frequency Bands
Ulefone T2 supports 31 frequency in 6 types, which means you can use it in most areas over the world. You will not break off contact with your friends or family when traveling abroad because of unsupported communication frequency.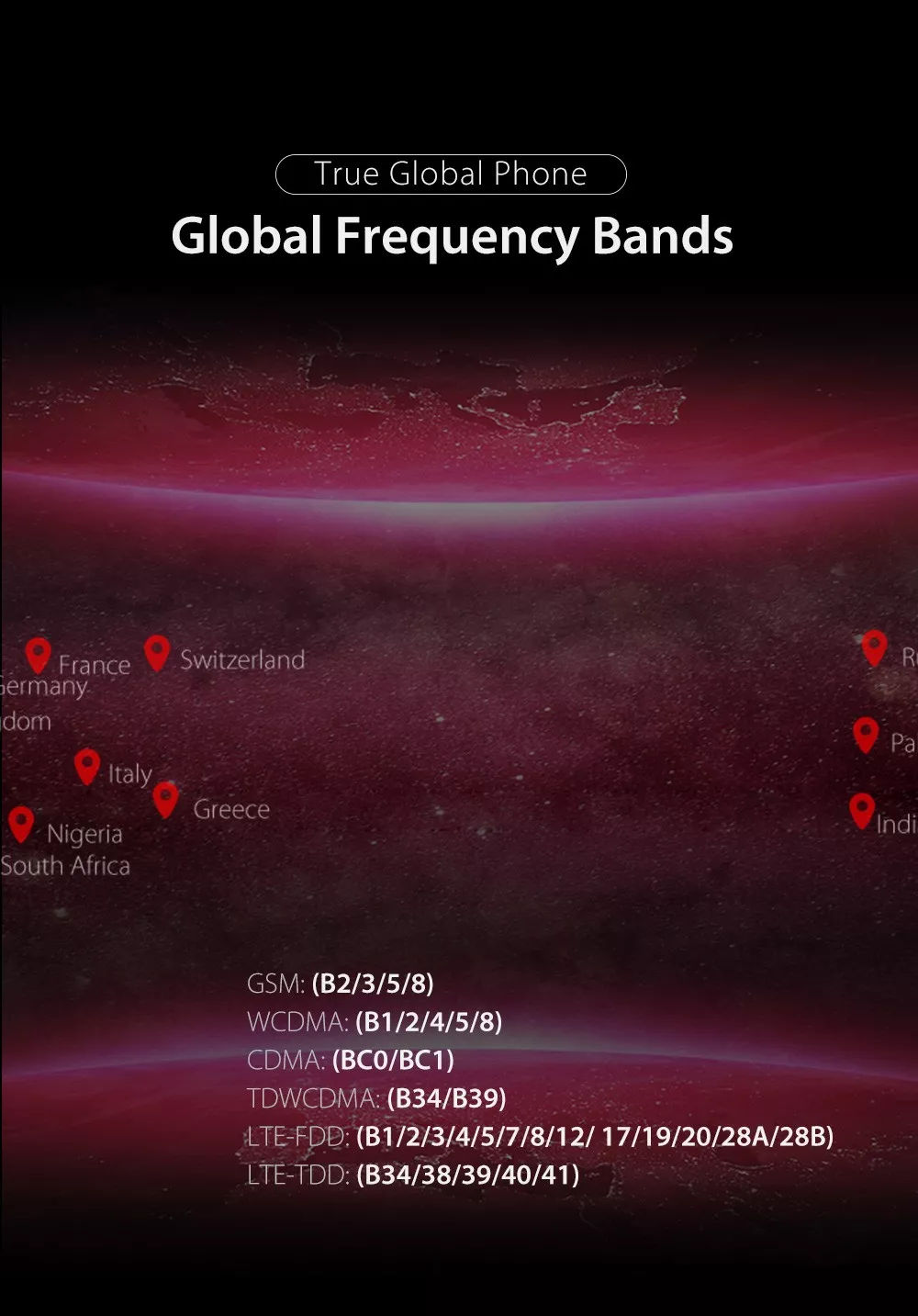 高清语音通话
畅享迅捷4G通讯
T2支持双卡双待,并可以两个4G网络之间无缝切换;而VoLTE则使你在打电话时也可以顺畅地接收信息或上网。无论身在何处,你都可以享受高清通话和流畅的网络。
High Definition Voice Talk
Enjoy Fast 4G Communication
Ulefone T2 supports dual SIM dual standby, allowing you to switch between two 4G networks seamlessly. And Dual 4G VoLTE allows you to make HD calls from either SIM. Now you can receive messages or surf the Internet while making phone calls.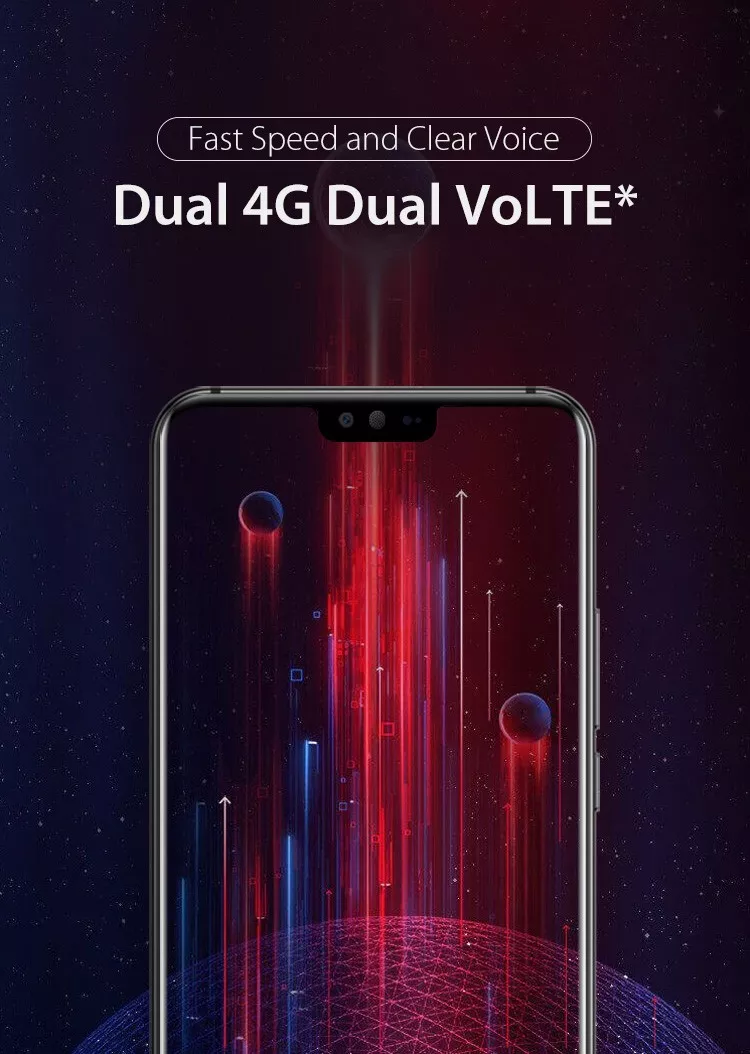 最新Android 9.0系统
全新简约流畅的UI
搭载最近的安卓9.0系统,为您带来全新更美观的交互界面,操作简单流畅,带给你不一样的用户体验。
Latest Android 9.0 System
Brand-new Simple, Smooth UI
Runs the latest Android 9.0 Pie as OS with a brand-new user interface, the interface looks more beautiful than the previous version, brings you simple, smooth operation, boosting your whole user experience to a new level.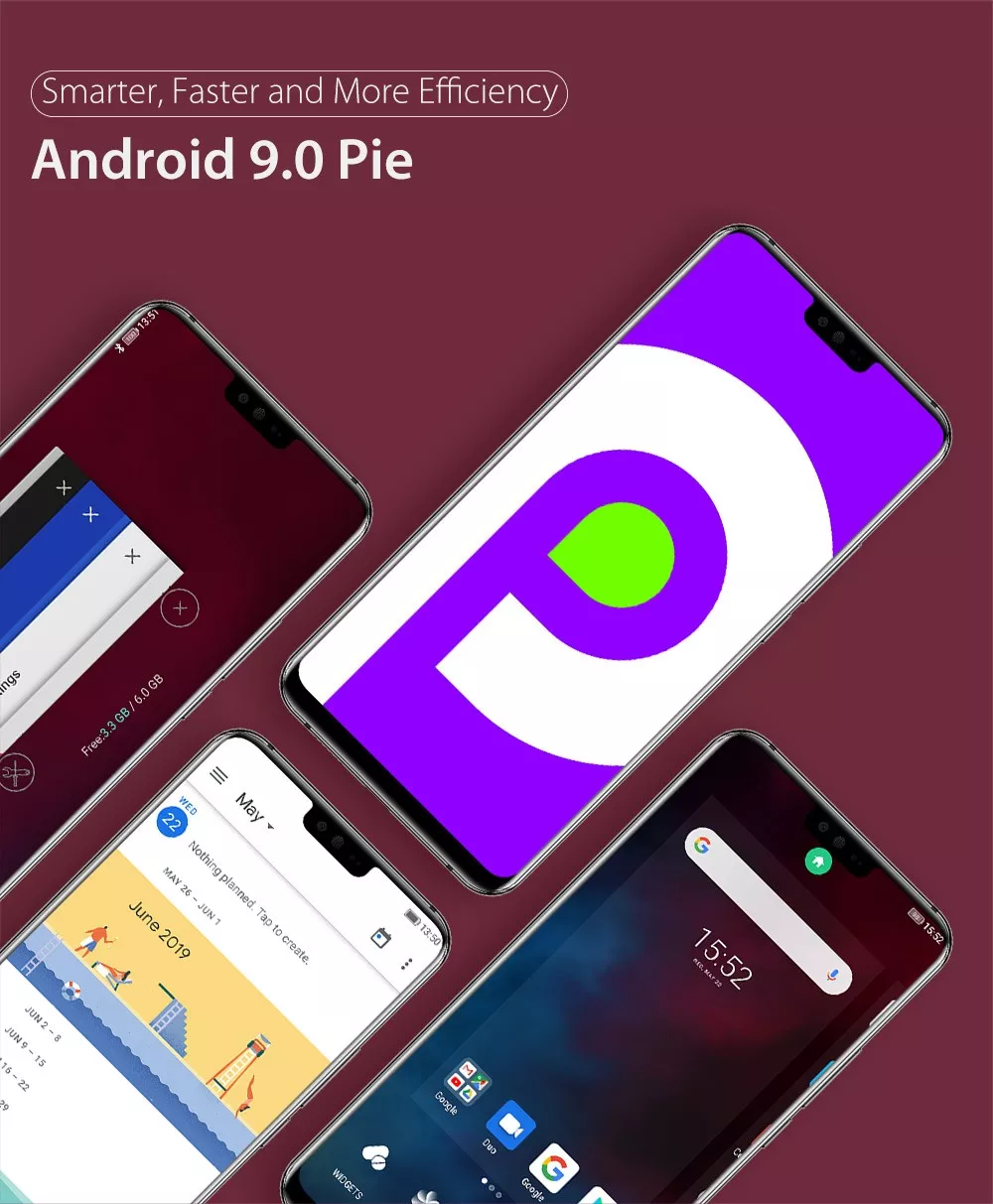 从配置上来看,Ulefone T2是一款当之无愧的高端旗舰机型,配备6.7英寸超大刘海屏,强劲的Helio P70 AI处理器,1600万超高清双摄,另外还有大电池加持,与其他同等配置的机器相比,有着超高的性价比。还有尽显高端的冰珀蓝、波尔多红两个配色供您选择。
Considering the configurations, Ulefone T2 deserves to be a high-end flagship-level mode, it packs a 6.7-inch ultra-large notch screen, powerful Helio P70 AI processor, 16MP dual camera and 4200mAh large battery, it is quite competitive relative to other similar phones in the market. What's more, there are two color variants - Bordeaux red & glacier blue for your option.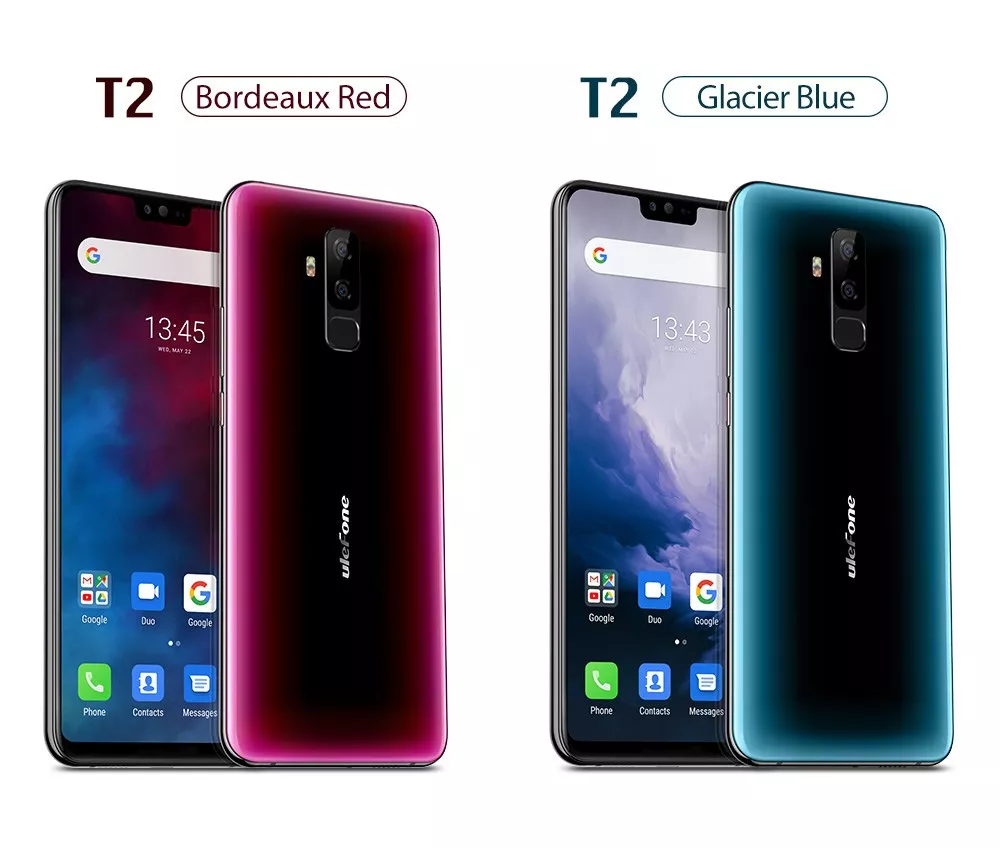 【本文版权归山寨手机网所有,未经许可不得转载。文章来自http://www.shanzaiji.cn山寨手机网,文章仅代表作者看法,如有不同观点,欢迎添加山寨手机网微信号:342019368,进行交流。】